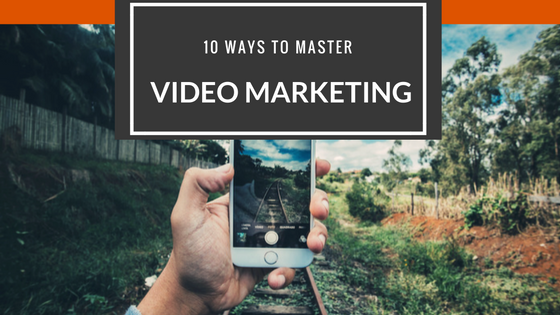 Have you noticed that every time you jump on Facebook all you see is videos? Feel-good videos, animal videos, seasonal-themed and informative videos that teach you something (see Tasty) This is where we are headed not only as consumers but also marketers. A very popular 2017 prediction is that video will continue to take over the digital world at a higher rate. We say "continue" because, let's face it, it already has taken over. Video doesn't need to be scary! It can be as simple or complex as you let it be. The choice is yours. So, let's break down the whys and hows of video marketing.Last week our company received an email from a past client. We had filmed multiple videos for them to promote their local franchise. Nearly 2 years later that local video was used in a big pitch for the national franchise. This is the power of video! Videos that live on Youtube and have searchable terms and content can live and reach people for years.
If you don't believe me then let me show you proof of how video marketing has grown over time.
Hubspot's

State of Inbound Report

states that of Facebook's users watch an average of 8 billion videos every single day.

Snapchat users watch 10 billion videos a day.

43% of people

want

to see more videos in the future - along with 45% wanting to see more social posts.
So we've officially convinced you that you need to use video in the future. But what are the best practices?
---
Tips For Creating Videos
1. Keep it Short
Your viewers have short attention spans and will most likely check out after a few seconds, which brings us to our next point.
2. Grab Their Attention
Do everything you can to grab viewers' attention in the first 2 seconds. This will determine whether they stay and watch or move on.
3. Customize Your Video
Your videos should be customized to a specific audience. Don't use one video to reach every one of your personas. Customize it to meet their specific needs!
4. Be Real
Be yourself! People want to see who you are and what you offer - no gimmicks and no cheese.
BONUS: Applications such as iMovie, Videorama, Quik and Animoto help you piece together video clips, add a soundtrack, and create multiple effects for your videos. Remember, your video does not have to be professionally done! As long as it's clean and clear then it will work.


Tips for Advertising With Video
5. Tell your story with and without sound!
75% of video viewers watch without the sound on. Make sure you are adding captions so they can follow along by reading.
6. Add a Call-to-Action
Let your viewers know exactly where they can go to find more information about your services.
7. Make it compatible
Make sure your video can be viewed across all devices and all software. It should be optimized for mobile and desktop, and Apple vs. Andriod.
8. Mind your platforms
Use best practices when it comes to video length and content. 15-30 seconds is custom for Instagram where 1 or more minute is suitable for Facebook. Also, if the majority of your viewers are watching on mobile (and they are), the shorter the better.
9. Embed your Video
Use your video again and again! Embed it on your website and use it in blog posts to boost traffic.
10. Analyze Correctly
Track the right metrics on your social platform to see how the video is performing. Analyzing video ads require different metrics than "regular" ads, so make sure you use the correct and helpful statistics.
There you have it.
Video is the future and the future is here! I challenge you to step out of your comfort zone and create a 30-second video about your company. Post that video on social media and your website and track how it does. How many views did you get, did you get any conversions? I can almost guarantee your reach will go up. Happy filming!