If you're trying to reach business professionals online LinkedIn is the number one channel to get to them effectively. You may have already created a LinkedIn ad and it may not have been successful. Why is that? I'm here to tell you some of the best practices when designing ads in LinkedIn. While your design is important, it's not the number one criteria when creating your ad, you also have to pay attention to your targeting criteria and the experiment you want to run.
First, what's your LinkedIn ad goal?
Are you trying to get more follows to your LinkedIn company page?
Well here's the quick and dirty, you most likely won't get it a lot of follows to your company page unless you follow many best practices in conjunction with each other. Why? Two reasons. One, in most cases, many LinkedIn followers come from hiring ads. Two, your company must be a thought leader in the industry - think Apple, Microsoft, LinkedIn. Forbes posted a fantastic article that highlights 50 different ways to get more followers on LinkedIn. Read the article here.
However, when it comes to LinkedIn ads, you will want to enable the "follow feature" in your sponsored posts. This means that anytime someone sees your ad, there is a button to follow you.
Are you trying to get leads?
This is my specialty. There are many factors that go into getting leads through LinkedIn but the most important by far, is the offer that you're promoting and the specific targeting criteria you choose. You have to promote an offer that your market cares about, whether it's a pain or the five best practices for doing their job better - it has to be specific. For example if you're trying to reach lawyers, your best bet is to create an ebook centered around something that they care about. For example, the five best practices that lawyers can use to bring in more clients and win.
At Laire Group, we've had a lot of success with our construction marketing checklist. We built a checklist that is specific to the marketing professionals of the construction industry and then targeted our campaign towards construction owners and marketers. LinkedIn is great because while there is not a clearly defined industry for this segment, you can find other ways to target your market. For example, you can target your campaign towards skills like remodeling, fix and flip, and construction. Professionals add these skills to their profiles which allows us to target them.
Are you testing a market or product idea, or building brand awareness?
Are you a startup or are you trying to change your business model? Experimenting to find the need for your product or service is crucial to the success of your business. LinkedIn ads is a good way to gauge the interest of a particular segment that you are trying to reach. If you get a ton of likes on your post and get many downloads, this should indicate that their is a pain or need for you solution. If you don't get the result you want, make sure to ask yourself important questions before calling your campaign a fail.
Are you targeting the right audience in your campaign settings?
Are you clearly defining the problem in the ad design copy?
Did you get many clicks to your ad but no conversions? This doesn't mean your experiment was a fail. You have interest, now you need to make your landing page more effective.
This all has an impact on the success of your LinkedIn ad.
Components of a LinkedIn ad design
To create a compelling ad design, you must have a clear call to action. Your call to action is "what is the viewer of this ad going to get out of clicking your ad?" Or, "what pain are you focusing in on and how can you help the prospect solve it?" There are three components to your LinkedIn ad design: intro copy, headline and design.

1. Your headline should clearly state what the offer of this ad is, as seen below.
By making your copy/text clearly focused you may get less clicks to your ad… but only because not everyone will want to download something. On the flip-side, the people that DO click and go to the landing page have their expectations set correctly and know that they are going to your landing page to download something. This keeps your LinkedIn ad costs down and your prospects qualified.
2. Your intro copy
The intro copy of your LinkedIn Ad should state the problem, persona goal, and the benefits. Typically, I like to use three benefits for the best results. Make sure to add your link with UTM parameters attached. You want to ensure that you're tracking and monitoring your campaign - especially if you're testing different ad creative like below. Here is the UTM parameters for my two ad designs:
https://www.lairegroup.com/construction-marketing-checklist?utm_campaign=OFFER-ConstructionMarketingChecklist&utm_source=linkedin&utm_medium=paidsocial&utm_content=girl
https://www.lairegroup.com/construction-marketing-checklist?utm_campaign=OFFER-ConstructionMarketingChecklist&utm_source=linkedin&utm_medium=paidsocial&utm_content=book
Notice the bold in the links above. I'm using this to distinguish the two ads so that in my reporting, I know which ad generated more leads or clicks to the landing page.


3. Now onto the creative…the ad design
In your ad design, there are two routes you can go to test. I would test two ads, one with an image of a person and text, and one with an offer on the image and text. LinkedIn is drastically different from Facebook, where Facebook doesn't allow you to have a lot of copy on the image, LinkedIn allows you to do that. And because of that, I've had a lot of success in getting my clients leads on LinkedIn. By clearly telling the user that they are getting a book or checklist you can bring in quality leads for less cost.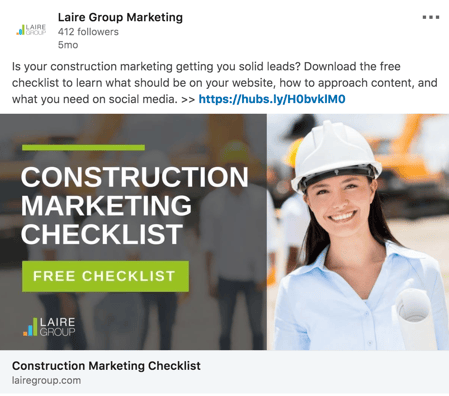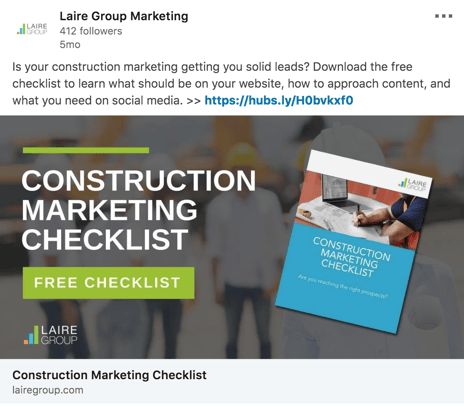 Keep in mind that even if do this, you might not get leads if you don't have a compelling offer that resonates with your target market. On the image, make sure to have a button, describe what the offer is and create an image of the book, checklist or a person. Add these elements to your LinkedIn ad.


There you have it, there's how to create a successful LinkedIn Ad.
Remember, social media platforms are always changing. If LinkedIn changes their algorithm or we find more successful endeavors, we'll be sure to let you know. Make sure you subscribe to our blog to never miss an update.