As a business owner, your search results should matter a great deal. It's how potential customers will be able to find your website when they are researching your product or service. There are two types of results that your business can utilize: paid and organic search results. While most businesses use a combination of both, we wanted to break down the pros and cons of each search result option.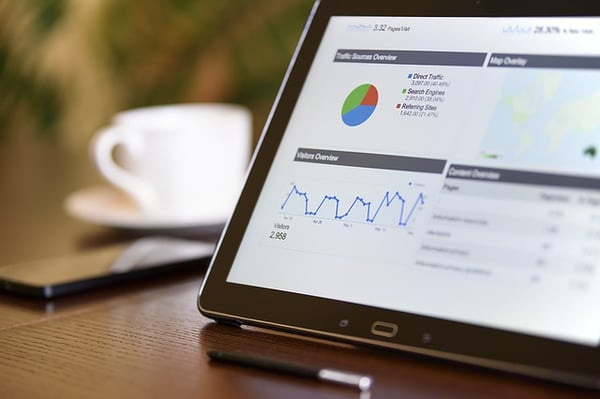 Before we get into it, it's important to remember that the success of either of these options has a lot to do with the quality of your website. A poorly designed website with little content may attract visitors, but it will not turn them into leads.
Assuming you have already improved your website, let's take a look at the pros and cons of paid and organic search results.
Organic Search Results
Ranking in the organic search results is accomplished through search engine optimization (SEO). This involves having keyword-rich content on your website. SEO starts with doing research on the keywords your target market is using to find your business. Once you have a list of relevant keywords, you can incorporate those into your website.
Google and other search engines send out crawlers to evaluate web pages for certain keywords and then ranks them organically.
Pros of SEO
Higher ROI. SEO is not free. There is a cost associated with optimizing your website and getting it to rank well in the organic search results. Fortunately, once the work is complete and your site is ranking, there is little to no cost to keep your website ranking.

Since the ongoing cost is very little, the ROI on your organically ranked website will increase even higher over time, as your website receives more and more visitors.
Improves Credibility. When your site ranks organically, that's the search engine's way of saying your content is valuable. Sites that rank on the first page of Google have outperformed hundreds of other websites targeting the same keyword.

However high or low your website is ranking in the search results can affect your credibility in the user's eyes. Higher ranked content is obviously viewed as more credible. Google users tend to stick with the first page of results when doing research. In fact, 91% view only the first page, and 50% do not go past the first three results on the first page.
Increases Brand Awareness. People use search engines to help them answer a question or solve a problem. They may have no familiarity with your business, and seeing it in the organic results is their first experience with your brand. The more someone sees your business, the better your brand awareness will be.

There are more than 3.5 million searches done on Google each day. That's a lot of opportunities for businesses to get their brand in front of potential customers.
Cons of SEO
Difficult to Achieve. SEO is not easy by any means. Think of how many websites exist today, and how many of those might be the same or similar to your business. Every one of these websites is competing to rank on the first page.

How web users interact with the content on your website affects your organic ranking. Quality content is viewed and shared more frequently by users. Search engines can see how often your content is viewed and shared and will rank it accordingly.
Less Initial Traffic. Because SEO takes time to perfect, your site will not rank on the first page organically right out of the gate. Your website content needs time to build credibility.

Sharing your content on other platforms such as social media and asking your website visitors to share your content as well will help. However, your fresh website content is competing with others that have been around for much longer, and have already proven that they're valuable.
Volatility. Just because you rank on the first page of the search results one day, does not guarantee that you'll still be there the next day. If you track your search ranking with tools such as Google Analytics, you'll see your ranking go up and down repeatedly in a short time.

This can be caused by several things. Other websites are vying to make it to the first page organically, thus creating competition. Changes to a search engine's algorithm can also affect how your site ranks.
Paid Search Results
Paid search, also known as pay-per-click (PPC), is exactly what it sounds like - you pay for your site to rank in the search results. Programs like Google AdWords and Bing Ads have created easy-to-use tools so that anyone is able to set up a PPC account.
Within these tools, you create ads that mimic the look of organic search results. You have control over your ad messaging and keywords that you want to target.
Pros of PPC
Increased Visibility. After setting up your PPC account and choosing the keywords associated with your business, your ads have the potential to show on the first page of the search results.

On Google, there are ad spaces above and below the organic search results. Depending on your budget, keyword competition, and ad rank, you could see your ads on the first page of Google within 24 hours of setting up your account, alongside organic search results that likely took months to generate.
Audience Customization. With PPC, you have some control over who your ads get shown to. You can select the geography, language, time of day, and interests that you want to target.

For example, if you own a restaurant that offers a daily lunch special, you can set your ads to be shown in the search results around the lunch hour to capture the interest of people looking for a place to have lunch. For businesses that operate in select areas, setting the geography of your ad is a great feature to ensure that you're only targeting people located in your service area.
Ranking Stability. If your ad targets relevant keywords, has strong messaging and connects to a keyword-rich web page, you can expect a relatively stable rank in the paid search results.

Just like with organic search results, PPC tools want to show the most valuable content at the top of the search results. The more frequently your ad is interacted with, the better it will rank. You do not have to be the highest bidder in order to achieve the top position in paid search results, but you do have to be the most valuable.
Cons of PPC
Ongoing Expense. Once your budget runs out, your ads will stop showing. In order to keep your ads showing in the paid search results, you need to maintain an ongoing budget. Unlike SEO where there is an upfront cost followed by little to no maintenance cost, PPC is never free.

The size of your budget helps determine how frequently your ads are shown. A low budget may result in your ads being shown only a few times a day. Alternatively, a large ad budget that isn't optimized well could result in a big expense with few leads.
Ongoing Management. PPC is not a hands-off process. Sure, your ads can run on their own and generate traffic with little interference. However, the success of your ads and utilization of your budget depends on your ads reaching the right people.

In Google AdWords, you can view the search terms that triggered your ad. It's very common to see terms that are not related to your business at all. Regularly reviewing these search terms and adding negative keywords when necessary will help keep your ad showing to the right audience, and preserve your budget.
Requires Experience. PPC is very easy to get started with. However, for the best optimization of your ad account, it helps to have experience. Your ads may perform just fine even if you have zero PPC experience, but there are many tools and features you could be utilizing to help your ads perform better.

Google AdWords offers certifications to help users understand how to use their tool. The certification process does take some time to complete and can be overwhelming for someone with no PPC experience.
It takes time to find the right balance of PPC and SEO that works well for your business. There is no one-size-fits-all solution. Fortunately (and ironically), you can research how to improve your paid and organic search results. There are thousands of articles on this topic available to help you.
If it all feels a bit overwhelming, we completely understand. Our team has dedicated PPC and SEO specialists to help our clients achieve great results without having to build the process themselves. You can learn more about our work in these two categories by scheduling a free 20-min marketing audit to discuss your businesses search result needs and more.