Is your website lackluster, stuck in the past, or simply not performing the way you want it to? Do you get website envy when you look at your competitors' sites? Sounds like you may have a bad website on your hands.
But before you jump in and start making a bunch of changes and maybe hiring a website design team, take a step back and make sure to determine you actually have a bad website. That's where this article comes in. We've outlined 9 signs of a bad website so you can diagnose your own company site.
Signs that You Have a Bad Website
There are a number of signs that can indicate you have a bad website. They ultimately break down into two main categories:
User experience
Analytics and lead generation
Let's take a closer look at each category (with examples, of course), starting with user experience.
User Experience
When it comes to poor user experience, there are multiple things that can negatively impact your website performance, including slow site speed, too much text, no whitespace, poor user journey and so on.
Slow Site Speed
Site speed is the time it takes for pages to load on your website. If your site speed is slow, this means it takes too long for pages to load on a user's phone or computer, which causes a poor user experience. According to Google, 53% of people will leave a mobile page if it takes longer than three seconds to load. So in that case, three seconds is what we should all be aiming for, no matter what industry your business is in.
But, how do you know what your site speed is? It's not like you can right-click on your website and select "Site Speed" below "Copy" and "Paste". Luckily, there are free online tools you can use like WebPageTest.org. To show you how to use it, we're going to use HubSpot's website as a test.
To get started, simply type in the website page URL you're wanting to test.

Screenshot from WebPageTest.org
Once you select "Start Test," it could take a few minutes to actually run the test. Once the test is complete, you will receive your results. Looks like HubSpot.com is loading in 4.94 seconds. Not bad, HubSpot!

Screenshot from WebPageTest.org
Now, it's your turn to test your site speed. If it comes back too far over three seconds, as suggested by Google, it may be a sign that you have a bad website. After all, who wants to wait 20 to 30 seconds for a website to load. No one has time for that and you could be losing potential leads.
Too Much Text
Having too much text on your website can be overwhelming for anyone who visits your website. Not only will no one take the time to read through everything you've spent timing writing, it can also make your website look super cluttered and difficult to navigate. Here's the perfect example from Best Electronics. This is just one screenshot of their home page (there's actually A LOT more text to read on this page).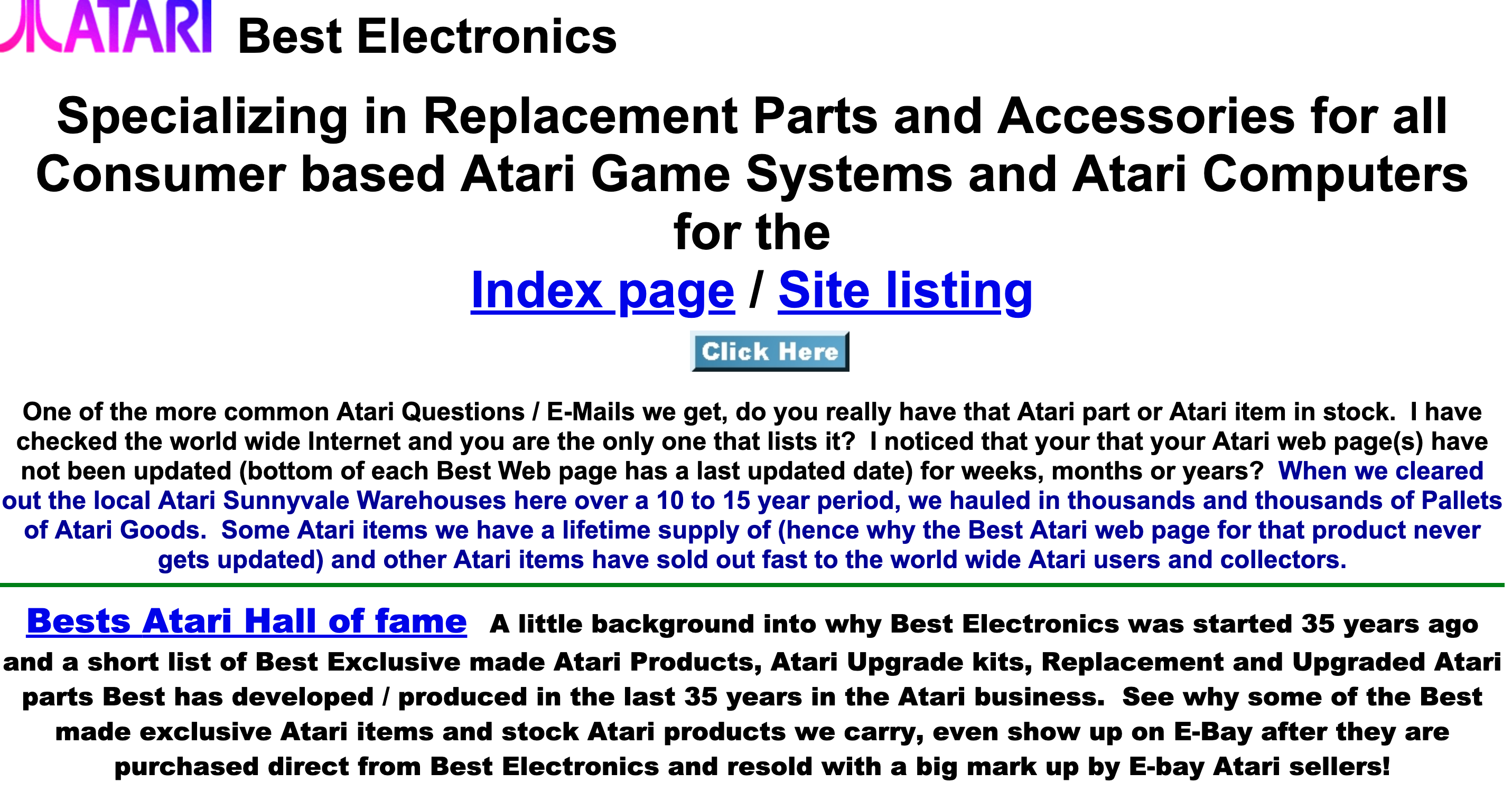 Screenshot from Best Electronics
Here's a fact about human nature. If our brain recognizes a task as too difficult or too much energy to solve, our instinct is to move onto the next solution. It takes the path of least resistance. So, bottom line - make sure the copy (aka text) on your website is concise and to the point.
No Whitespace
Some people see whitespace as wasted space, but that just isn't true, especially for websites. Whitespace gives your website visitors' eyes a little break. It can also help break up thoughts in an intentional way, which helps users better understand your messaging and digest your content.
Here's an example of a bad website by a gates and fencing company in Florida that is not using the proper amount of whitespace: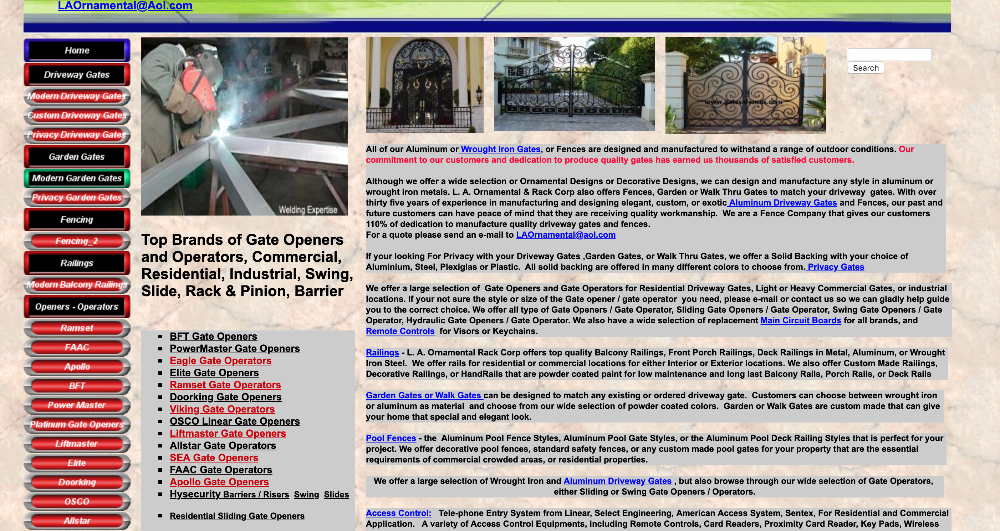 Screenshot from L.A. Ornamental
As you can see, without whitespace, your eyes don't know where to look. It makes it very difficult to follow along, right? And that makes for a poor user experience. That's why we recommend breaking up your content into smaller chunks, as well as using images and icons to convey your specific message.
No Clear User Journey
The last thing you want your website visitors to think after they visit a page on your site is, "Now what?". Having an unclear next step is not only confusing to the end user, it can also cause them to become frustrated, lose interest, and bounce right off your site and continue the search for an answer to their question or problem. This causes a lot of missed opportunity.
When building out your site, think about the purpose of each page. Is the purpose to educate visitors about a service you offer? What information is the user looking for? What would be the next step in their journey? Perhaps it's to contact your company to schedule a consultation. The key here is to be intentional, and guide your website visitors to become a lead while continuing to nurture them with valuable content and information.
Not Mobile-Friendly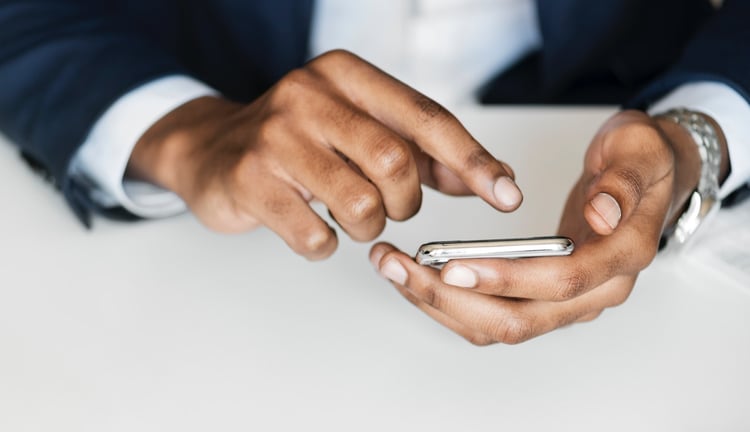 What does it mean for a website to not be mobile-friendly (or mobile responsive)? It means that when a user visits a website on their smartphone, the formatting doesn't change from the desktop version. That means the user is required to zoom in manually and shift all around the page to navigate the content. The content is too small to read, the images are falling off the page, and the navigation is probably not always visible. Not a good user experience, right?
Here's the big problem with your website not being mobile responsive - according to Statista.com, in 2018, 52.2% of traffic on the web was generated through smartphones. That's over half of all web traffic! On top of that, having a mobile-friendly website can improve your rankings on Google as well.
Want more information on making your website mobile responsive? Check out this article from Business.com.
Now, let's move onto four more signs that you have a bad website in the category of analytics and lead generation.
Analytics and Lead Generation
Google Analytics and other online measurement tools are key in determining whether or not you have a bad website. There are multiple measurements to pay attention to when diagnosing the issues of your website, including:
Poor lead generation

High bounce rate

Low monthly website visitors

Poor ranking for organic keywords
Let's discuss each one of these measurements a little more in-depth and give you a bit more information on how to analyze your website data. We'll start with poor lead generation.
Poor Lead Generation

Are you getting few to no leads each month through your website? This could be sign there are some things you could refresh or redesign on your site. Perhaps you don't have a clear user journey like we discussed above. Or maybe you have too much text, so your website visitors don't take the time to read your content and understand how your company can help them.
If you're a HubSpot user, this platform makes it super simple to see how many new contacts you've received over time. HubSpot also compares your results to the previous month, which really helps you see how well you're doing. Here's an example of what that field looks like: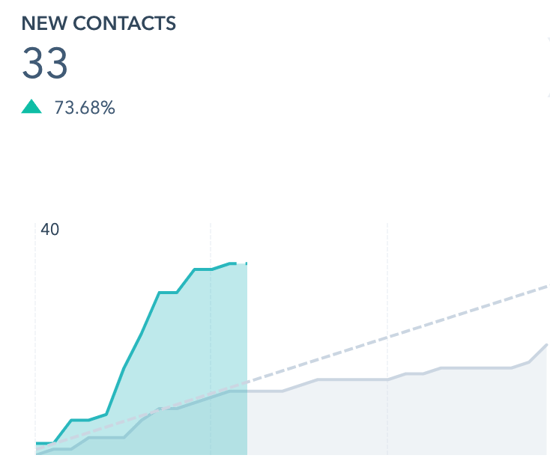 In HubSpot, you can also see where new contacts come from (aka how they became a lead). Here's an example from one of our own contacts. Side note - we've marked out the contact's name below so they remain anonymous.
If you aren't on HubSpot, don't worry. You can use Google Analytics instead. All you have to do is set up your goals. For example, if you have a newsletter opt-in form, that should be a goal for sure! If you're not too comfortable with Google Analytics, check out this article from OptinMonster.com where you can find step-by-step directions on how to set up your goals.
On top of Google Analytics, you should also be paying close attention to your CRM (customer relationship management) platform. If you don't currently have a way to specify new leads that converted via the web, try to add that qualifier in so you can track website leads vs. other leads gained through cold calls, direct mail, social media, etc.
High Bounce Rate
A bounce is when a website visitor comes to a page on your website and immediately exits without interacting any further with your site. Your website average bounce rate is attributed to the number of bounces in a given period of time. To see your bounce rate, you'll be using Google Analytics again.
When you log in to Google Analytics, on the home screen, you'll see your number of users, sessions, and the average bounce rate across your site. This is basically what that should look like:


So, how do you know if your bounce rate is too high? It really all depends on your business and the industry average. For instance, according to a recent study by Brafton, B2C companies typically see a 54.24% bounce rate, whereas B2B companies hover around an average 61% bounce rate.
Low Monthly Website Visitors
There are a number of ways you can get this information, but we'll look at HubSpot and Google Analytics. Let's start with HubSpot. In the Marketing Dashboard, along with the "New Contacts" figure we mentioned above, you'll find the number of website sessions.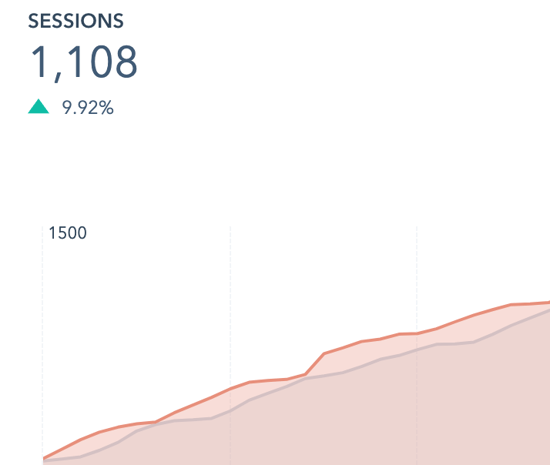 Then, in Google Analytics, you'll want to look at the "Users" figure (see the screenshot above under the "High Bounce Rate" section).
As a general rule of thumb for both HubSpot and Google Analytics, if you see your monthly website visitors trending down consistently especially by a high percentage, that could be a sign you have a bad website which needs to be refreshed or redesigned. At the same time, if they are consistently low or stagnant, this is also an indication. For instance, there could be an opportunity to add content to target organic keywords, which we'll talk more about keywords below.
Poor Ranking for Organic Keywords
Like we mentioned above, low website visitors could be a sign that you aren't ranking well for organic keywords. One free tool you can use to see how you're ranking for keywords is Ubersuggest. Simply, type in your website domain (for example, ours is Lairegroup.com), and click "Search". Once your results load, you'll see the number of organic keywords you're ranking for, as well as the organic monthly website traffic and paid keywords if you're doing any paid advertising on Google.
From there, if you click on "Organic Keywords", you can view all of the organic keywords you are currently ranking for in Google. Some important factors to pay attention to are "Volume" (or monthly search volume), the "Position" (where your site is listed in Google search results for that search term), and the "Estimated Monthly Visits" (the number of website visitors that come to your website via that search term.
The "SEO Difficulty" is another factor to keep in mind for your content strategy for your site. The SEO difficulty rating is basically how difficult it is to rank for that search term. The higher the number between 1 and 100, the more difficult it is to rank for that keyword. So, if a keyword has a high monthly search volume, and has a low SEO difficulty rating, that is a great search term to incorporate on your site (if you aren't already in the first position anyways).
There you have it - 9 signs you have a bad website
How many of those signs did you identify as issues with your site? Less than half? Maybe you need to think about refreshing your site with some minor adjustments. More than half, and it may be time for a complete website redesign.
What's the right next step for your business? In our next blog post, we'll detail the differences between a website redesign and a refresh, and how to determine what is the right next step to fix your bad website.
Looking for more website tips? Check out our free website must-haves guide below!